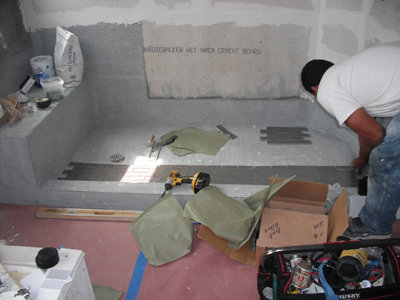 Installing new flooring or modifying an existing one is a crucial step for every homeowner. This is so, since different rooms are exposed to different environment and foot traffic, and therefore require customized flooring solutions. It is in order to ensure that the right flooring option is selected, and that it is installed in a proper manner that a number of households opt for the services of a professional contractor. However, not everyone has an idea of how to deal with contractors in order to get maximum benefit out of them.
Flooring contractors, although expensive, can ensure to select the right flooring option for your house and install it properly. In order to avail these benefits it is however, important to assist your flooring contractor. Following are a few ways in which you & your flooring contractor can mutually benefit each other.
Most of the problems faced by people while dealing with flooring contractors are due to a communication gap. In order to ensure that the flooring work continues smoothly, you should communicate your exact expectations and requirements to the contractor as early as possible. For example, you should clearly convey your maximum budget, type of flooring you require and the reasons for selecting a particular flooring option. Since these contractors are professionals they might be able to come up with a better solution after getting to know about your exact requirements. Lack of communication generally leads to misunderstandings during the latter stages of the flooring process.
Although, flooring contractors would have all the tools required for the job; they would still have some basic requirements that you need to fulfill. An electric point, source of running water, place to store the tools and a washroom are some of the resources that you need to provide them. Anticipating such needs and making arrangements prior to the initiation of the flooring job would make the job of your contractor much easier. Furthermore, early arrangements will also enable you to create a working space for your contractors and make other areas of your house off limits for them.
Flooring contractors generally do not appreciate frequent interference from the homeowners, but they prefer regular inputs from them. It is therefore, important that you survey the work that is being done and convey any discrepancies from what you had planned.
It is advised to mark the area being floored as off limits for the family members until the flooring job is completed. This step would ensure that there is no damage to the floor, if used before it sets in. For example, stone and tile can crack easily if walked upon before setting. Similarly, wood flooring can scratch, if it is used before the final coating has been applied.
In order to get the best results it is important to trust your contractor and to let them work without frequent intervention. Frequent disturbances and interventions from the homeowner's side can lead to unfavorable outcomes in the flooring process.
Copyright © 2010 FlooringSupplyShop.com
The post Dealing with a flooring contractor first appeared on Flooring Supply Shop Blog.
construction directory
Contractor
Contractor Directory
contractor's directory
Remodeling Contractor
subcontractors