A leaky ceiling or wet basement is a huge problem which, a lot of homeowners are facing these days. It can cause damage to furniture, walls and floors. In addition the dampness also attracts wood rot and termites which can aggravate the damage caused. Since home is probably a person's most expensive investment, it is important that homeowners take adequate measures to prevent damages to their house. Waterproofing is an important measure you can take to prevent water from damaging your house, eventually safeguarding your investment as well as the house. Some of the popular waterproofing options you can use include vinyl (composeal) and fabric (Schluter and Blanke). These can be used for basement, foundation, floors, walls, leaking ceiling and other sections of the building structures.
Whether you are building or remodeling your home, you should install waterproofing system to prevent penetration of water. Vinyl (composeal) waterproofing system is quite popular with homeowners as it is long-wearing and lasts for decades. Along with durability, it is easy to assemble and very affordable. The Composeal vinyl fabric provides protection against common shrinkage cracks, common in houses and prevents moisture migration as well as water damage. Moreover, it has an excellent bonding strength and can be easily installed on terraces, roof decks or any kind of flooring, including marbles, tile, stone or brick. In addition, it also provides excellent resistance against chemicals. Only drawback is that the place should be well ventilated as this fabric does not breathe, and if the underside of the fabric gets wet then it might lead to mildew growth.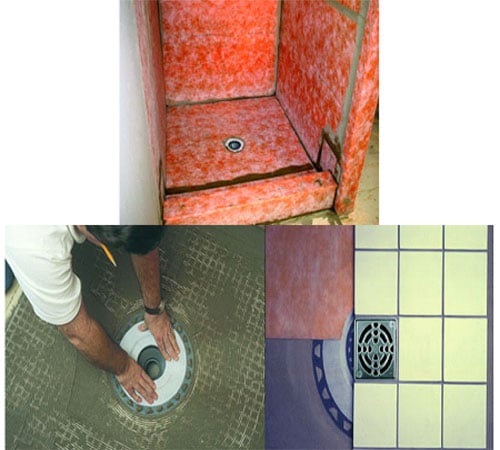 You can even opt for the Schluter fabric waterproofing which is reliable, durable and easy to install. This bonded waterproof membrane is appropriate for ceramic tiles and other kinds of floor as it does not give moisture a chance to penetrate. In addition, it also has crack bridging capabilities and also acts as a vapor block. Moreover, it does not constitute any hazardous wastes and is physiologically safe. It can be easily installed using a dry-set hydraulic adhesive without requiring any waiting period.
Another popular option being used at residential and commercial buildings is the Blanke waterproofing fabric. These are durable and be installed easily on most of the surfaces that are flat, dry and structurally sound, with help of thinset. In addition, it is ideal for steam rooms as it provides a vapor barrier. It also provides a long lasting barrier against moisture and is effective even in areas such as bathrooms and shower stalls which have continuous moisture penetration. Even the tiles can be installed directly on it without any need for cure time, which is generally required for liquid applied products. Furthermore, the Blanke fabric also offers resistance to mold growth, UV destabilization as well as adverse effects of chemicals. Hence, Blanke waterproofing fabric proves to be a convenient option, which is durable, cost-effective and easy to install.
Before opting for a flooring option, you need to make a detailed study of the choices available. Along with that you also need to assess your waterproofing requirements and accordingly make the decision.
Copyright © 2010 FlooringSupplyShop.com
The post Vinyl composeal waterproofing vs. fabric Schluter and Blanke first appeared on Flooring Supply Shop Blog.
Blanke Aqua Shield
C-Cure Pro red Seal Guard
Composeal waterproofing membrane
liquid waterproofing
Pan liner
Schluter kerdi
waterproofing membrane