Out of all the flooring options, laminate flooring is probably the most popular choice. Laminate offers the same visual effect as hardwood flooring, but with enhanced durability. Other benefits associated with laminate flooring are its low cost, ease of installation and ease of maintenance. Although laminate flooring was quite easy to install earlier, recent advancements have further simplified this process.
Traditionally, laminate flooring used to be glued to the sub floor of the room. Now, you can find no-glue type laminate flooring that can be installed in a much easier and timely manner. No-glue laminate flooring locks together without the use of glue, which makes it much simpler to install.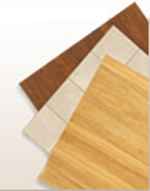 Apart from the ease of installation there are a number of other factors that make no-glue flooring better than traditional laminate flooring. One such benefit is that the simple installation reduces the chances of anything going wrong during the process. Traditionally, installing laminate flooring required strapping until the glue dried. Furthermore, the installer also had to ensure that the flooring was being laid down in an accurate manner. With no-glue laminate flooring there is no requirement of using strapping, and the chances of the floor's shape being disrupted are also eliminated.
Generally, the joints of no-glue laminate flooring are made to fit tightly in order to make the flooring stronger. Along with making the flooring structure stronger, this also reduces the chances of moisture seeping through the floor and damaging it.
Although installing traditional laminate flooring was quite inexpensive, getting it repaired in case of any damage can be a costly job. Generally a professional would have to be called to cut out the damaged piece from the flooring and replace it with a new one. No-glue laminate flooring removes all these hassles. All that is required to replace a damaged portion is to unlock it from the rest of the flooring and replace it with another one. This process is quite simple and can even be undertaken as a 'Do It Yourself' project.
Although no-glue laminate flooring has numerous distinct advantages, a number of people still prefer the traditional form of laminate flooring. One of the reasons for this is that since no-glue laminate flooring is not attached to the sub floor it would make a loud noise when walked upon. This noise could be a cause of constant disruption in the house. Another reason is that no-glue laminate flooring is not considered to be as strong as traditional laminate flooring. The strength so achieved by gluing the flooring can add a few years to your flooring.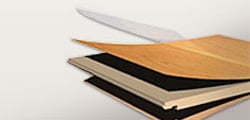 All in all, both glue and no-glue laminate flooring has specific advantages and disadvantages. Prima-facie there is no difference in the cost of these two variants; however, you can save with the no-glue flooring by installing it by yourself. Furthermore, maintenance of no-glue flooring is much easier, and any repairs can be undertaken as a DIY project. Therefore, it is important to be aware of the specific advantages and disadvantages of each type of laminate flooring before selecting one.
Copyright © 2010 FlooringSupplyShop.com
The post Difference between glued laminate flooring and non glued laminate flooring first appeared on Flooring Supply Shop Blog.
hardwood care products
hardwood flooring
Laminate
laminate cleaners
Laminate flooring