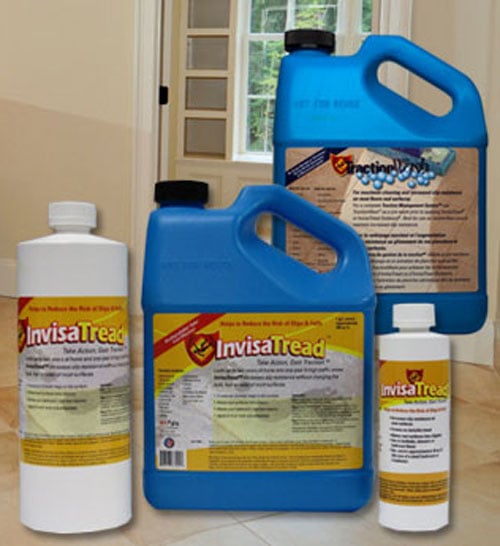 In case, you have kids at home, who play inside the house, keep running here and there, may fall down while playing and injure themselves. Sometimes these injuries can be serious; hence it is advisable that one must take adequate measures to avoid such unpleasant situations. An effective way of eliminating risk of slipping and falling is to improve the safety of the floor surface to avoid it. Using anti slip additive is an excellent choice, as it not only maintains the aesthetic appeal of the place but is also highly durable, which will last for years. Hence, one can safely walk or run on the floor, without any risk of slipping and getting injured.
These are increasingly being used in offices and commercial buildings as well. The 'American with Disabilities Act' requires that floors, in all public, municipal and commercial buildings, have 0.60 co-efficient of friction to considered safe to walk on. In case the floors are slippery and someone gets injured on your premises then you will be held liable for his injuries caused due to your negligence. This can incur heavy expenses for not abiding by the law, especially if you do not have adequate insurance coverage. However one simple step, using anti slip additive, can help you avoid all these inconvenience and make your place safe for everyone.
Depending upon your requirements and budget you can choose amongst several anti slip additives that are available in the market, however one must wisely select the product which is effective and durable. There are environment friendly anti slip additive solutions as well, which increases the coefficient of friction by creating microscopic tread on different types of natural flooring, such as marble, smooth concrete, travertine as well as ceramic and quarry tile, among others.
Applying anti slip additive may seem to be a daunting task, but it isn't. A do-it-yourself enthusiast can easily accomplish this task without much trouble or any professional guidance. A word of caution, before you apply the anti slip additive on any surface, apply it to a small portion and see for any side-effects, after treatment. Generally, these additives are not used on metals, wood, fiberglass and any resin type products.
First clean the surface, remove any sealers or waxes on the floor and then apply the additive to the clean surface. After applying, agitate until foaming with the help of sponge or brush and then leave it for five to ten minutes. Repeat this process and in between agitations, check for resistance by pressing and pushing forward with your finger tips and in case there is no resistance repeat the process again. The processing time differs from one floor type to another, for marble the process time is less as compared to porcelain which has a longer processing time. Once there is optimum resistance, immediately rinse the surface with clean water and you can walk freely on the surface without slipping or falling.
Hence, these additives are easy, safe, environment-friendly and affordable way of making the floor anti slip, along with maintaining the aesthetic look of the place.
Copyright © 2010 FlooringSupplyShop.com
The post Dont slip use anti-slip additive first appeared on Flooring Supply Shop Blog.
Anti slip
Anti Slip Additive
antiskid
Flooring
Glaze n Seal
Grip n Slip
Invisatread
safety
slip fall
tile grip