One of the most common problems that people face in their shower area is inadequate drainage, thereby resulting in water accumulation. This accumulation of water gives rise to mold growth and can even make the shower area slippery and dangerous. Hence it is important that you have a dry and hygienic bathroom; and the key to achieving this is to lay a good shower foundation. To accomplish this you need ready to tile shower pans, which not only keep the shower area dry, but also protect the sub floor from water seepage. Moreover, the shower pan base will act as the foundation for installing tiles in the shower area.
It is crucial to carefully design and construct the shower area since even a minor glitch can result in water accumulation, and water seepage to the sub floor. To avoid such a situation use a shower pan, which will be installed between the sub floor and the tiles. These ready to tile shower pans are waterproof and prevent water from accumulating on the tiled floor, and seeping to the sub floor. This helps in keeping the bathroom dry and hygienic, thereby preventing mold growth. A dry shower area will ensure that the sub floor as well as the tiles long last and require minimal maintenance over the years.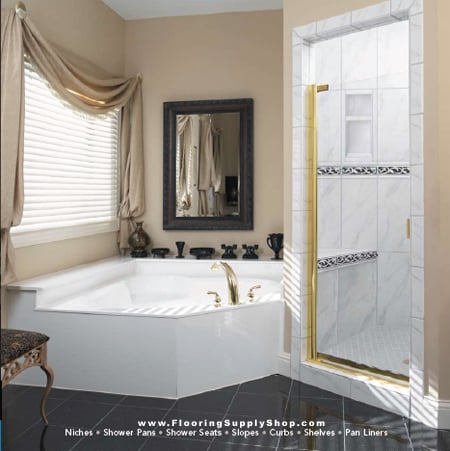 Tile shower pans form a strong foundation of the shower area, thereby making them essential while designing a shower area. These shower pans offer a waterproof lining and prevents water from percolating to the sub floor, hence avoiding any damage to it. A number of individuals are unaware that even tiles are porous. This point is especially relevant to a shower area that is situated on the first floor or the second floor of a house. In case there is any leakage of water below the tiled floor there could be significant damage to the surrounding walls. This leakage could extend to the other floors of the house as well, thereby resulting in greater damage. It is in order to prevent such damage from occurring that you should consider installing a shower pan below the tiled floor of your shower area.
Ready to tile shower pans are lightweight, waterproof and can be easily installed. Although a number of individuals prefer to install a shower liner membrane below their shower area, there are a number of disadvantages associated with it. First of all, there is a chance of damage to the liner during the installation process thereby leading to water leakage in the future. Further, there is a possibility that water might accumulate over the liner membrane, thereby resulting in mold growth.
Ready to tile shower pans have a standard ¼" per foot drain slope, and an integrated drain assembly thereby facilitating proper drainage of water. Further, since these shower pans are ready to tile, the time taken to build a shower area is significantly reduced. Therefore, to have an aesthetically pleasing, dry and clean bathroom you should install ready to tile shower pans in your shower area.
Copyright © 2010 FlooringSupplyShop.com
The post Have a strong foundation Use ready to tile shower pans first appeared on Flooring Supply Shop Blog.