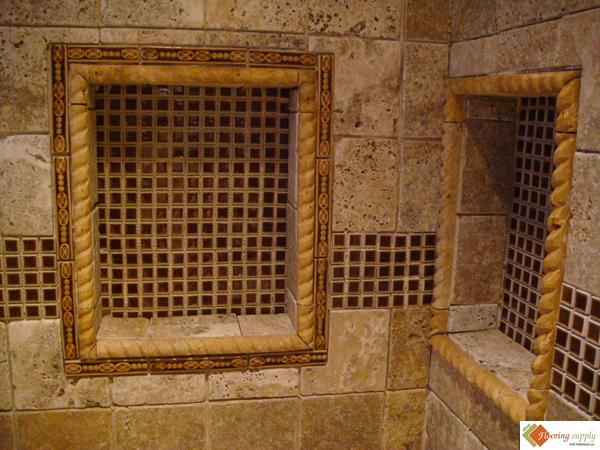 Modern construction designs have rendered space to be a premium commodity, so it has become all the more important to make maximum utilization of the space that is available to you. Utilization of space is especially important in a bathroom since it is one of the most important areas of a house. One of the most effective ways to ensure that you are able to effectively utilize the available space in your bathroom is by using shower recess and niches.
Earlier when a separate space for keeping accessories in a shower was required people used to install either a ceramic soap dish or a corner shelf. Although effective, this method used up a lot of space in the shower area; therefore, a more effective storage solution was required. It is in order to effectively utilize the space in a shower that the uses of shower recessed shelves have gained popularity. Most people use a variety of cosmetics and accessories while showering and cluttering in the shower area has become a common problem that is faced by many.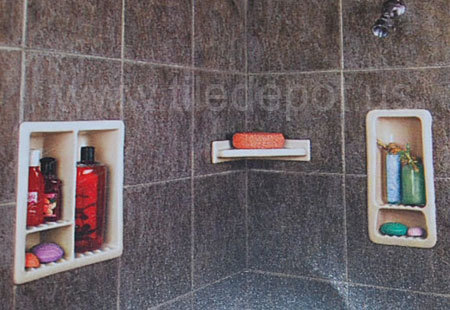 Not only can shower niche prevent cluttering in your shower; it can also act as an essential part of your shower's decoration theme. These recesses and niches can be easily installed in your shower area thereby ensuring that there is no damage to the surrounding areas. Further, these porcelain recesses and niches are available in a variety of colors, shapes and designs to suit to the specific theme of your shower. You can even use these recesses and niches to create a special theme in your shower area thereby enhancing its aesthetic appeal.
For those who like to fix things on their own; while installing these recesses & niches would face the problem of effectively waterproofing it. Since even a minor leak in the shower area could significantly damage the walls, it is of prime importance to ensure effectively waterproofing the installed recesses and niches. This problem has been effectively solved by high quality shower recesses and niches such as those offered by FlooringSupplyShop. These recesses and niches do not require any waterproofing so you can easily install them within a matter of hours rather than days.
Manufactured using high quality porcelain, these shower recesses and niches are highly durable and offer longevity. You can easily clean these porcelain recesses and niches without using any special chemicals thereby ensuring ease in maintenance.
It is due to the high utility and ease of installation that these porcelain recesses and niches are widely being preferred. You can go through the website of flooringsupplyshop to get access to the various porcelain recesses and niches that are being offered. Available in a wide range of colors and designs, you can select the one that best suits the specific theme of your shower area. The unique feature of these recesses and niches is that you will be able to create space for all your shower accessories, thereby ensuring an effective showering experience.
Copyright © 2010 FlooringSupplyShop.com
The post Prevent cluttering in your shower first appeared on Flooring Supply Shop Blog.
Bathroom Accessories
recessed shower shelf
shower niches
shower recessed shelves
shower shelves