A shower area is your personal space, and it is important to keep it clean and dry in order to enjoy a refreshing showering experience. However, it is not uncommon to see problems such as molds and water leakage in a shower area. In order to provide an effective solution to this problem of water leakage & molds, you should ensure a proper slope of your pan liner as well as the tiled floor. Further, your shower area should also have an effective curb to make sure that water does not splash out and does not damage the surrounding areas.
A typical shower area consists of a sub floor, usually made up of plywood, a waterproof pan liner above the sub floor, layers of mortar and a tiled floor. Since the tiled floor is not completely waterproof, there are chances of water seeping down the layers of mortar and accumulating over the pan liner. In case there is a leakage in the pan liner, this accumulated water could seriously damage the plywood sub floor. Therefore, in order to ensure that there is no water accumulation over the pan liner there should be adequate pan liner pitch.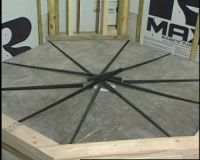 This pan liner pitch can easily be achieved by using Pre Pitch, which is a unique screeding tool used beneath the pan liner. Pre Pitch would create the desired level of sub floor pitch to ensure that water is directed effectively towards the drain weep holes. The convenient design of this system ensures that do-it-yourself enthusiasts will be able to install it without any hassles.
After creating the appropriate sub-floor pitch, your next line of defense against water accumulation and water leakage should be a proper shower floor pitch. By having a proper shower floor pitch, you will ensure that water flows directly into the drain, thereby reducing the chances of water seeping down the mortar layer. Quick Pitch is an effective system that can ensure that your shower floor has an appropriate slope of 1/4" per foot. Further, since Quick Pitch would be installed over a Center Ring, which will be placed on top of the drain flange bolts, it would not add to the slope of the pan liner.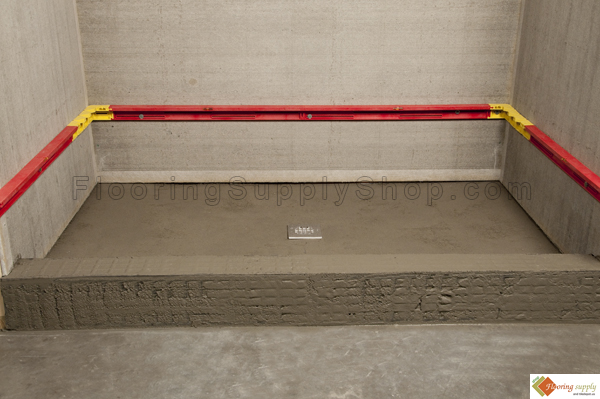 Your final line of defense against water damage to your shower area would be an effective shower curb. A shower curb acts as a dam against the shower water and ensures that there is no water splashed outside the shower area. However, while installing a shower curb, there are chances of the pan liner getting damaged, thereby resulting in water leaking out on to the sub floor. Kirb Perfect is a unique solution to this problem since it ensures a perfect curb, without any damage to the pan liner.
Installing these three unique tools will effectively protect your shower area from extreme damage caused due to water leakage, mold and other similar damages. Moreover, the ease of installation offered by Pre Pitch, Quick Pitch and Kirb Perfect will ensure that you are able to create a perfect shower area in the most convenient manner possible.
Copyright © 2010 FlooringSupplyShop.com
The post Enhanced protection for your shower against water leakage first appeared on Flooring Supply Shop Blog.
pre pitch
Quick Pitch
Shower floor drainage
shower slope