The shower area, for most people, is their own private space where they can refresh and rejuvenate themselves. It is due to this reason that a shower area should be designed and constructed with extreme care and precision. One of the most important components of a shower area is the shower pan. Shower pan is the area between the tiled floor and the sub floor, and is crucial to maintain the integrity of the shower area.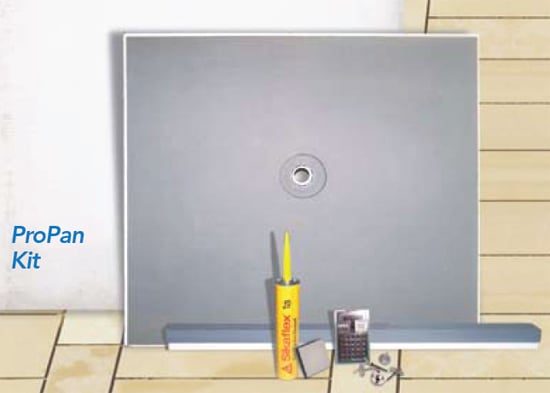 In case your shower pans area is such that water accumulates there, you could face serious problems of mold growth. Further, in case your shower pan leaks, there could be damage to your shower floor. One of the most effective solutions to this problem is ProPan, which is an easy to install shower pan floor. ProPan is a waterproof shower pan that can be ideally installed in shower areas of different sizes, thereby ensuring high utility.
Although ProPan is available in different standard sizes, one of the biggest advantages of using ProPan is that it can be modified, cut or extended according to the specific size of the shower area. This feature ensures that your contractor can cut the Pan at the job site as per the requirements.
ProPan is a ready to tile shower pan that eliminates the need to set up a separate layer of pan liner. Although a pan liner is widely used to prevent leakage to the sub floor, there are chances of water accumulating over this pan liner, thereby resulting in the growth of mold. ProPan comes with a pre-formed pitch of ¼" per foot, thereby ensuring that there is no water accumulation below the shower floor. This standardized slope makes sure that any water that seeps through the tiled floor is directed effectively towards the drain opening.
Another benefit offered by ProPan is that it comes with a full foam curb assembly, which can also be customized as per the shower size area. Two of the most time consuming and crucial activities related to building a shower area are constructing a shower curb and waterproofing the sub floor. By installing ProPan, you will be able to effectively take care of both these activities, thereby ensuring a perfect shower area.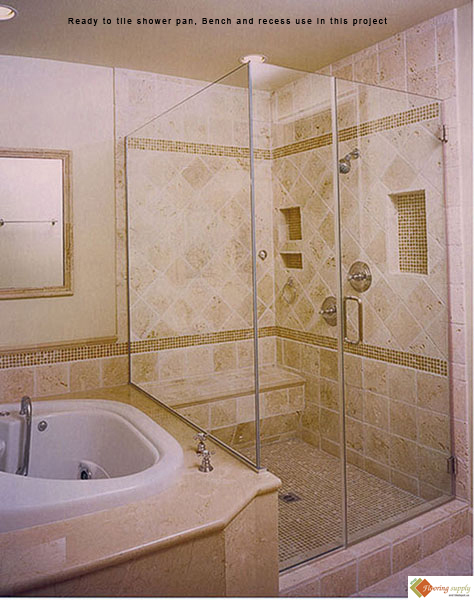 The ease of installation and high utility of ProPan systems have ensured that they are widely used for flooring and tiling activities. As compared to traditional mud beds that took 2 to 3 days to set-in, ProPan can be installed in a matter of hours. Further, its ready to tile feature ensures that you are able to design and construct an effective shower area within a short period of time and without the assistance of professionals. ProPan is manufactured using rot proof material to ensure that it remains effective for a long period of time.
An improperly built shower area will require regular maintenance and additions from your side; therefore, it is essential that you get it right the first time. This has been made possible through the use of a ready to tile shower pan such as ProPan.
Copyright © 2010 FlooringSupplyShop.com
The post Design an elegant and effective shower area first appeared on Flooring Supply Shop Blog.
DIY
ProPan shower pan
Ready for tile shower pan
Ready to tile Shower Pan