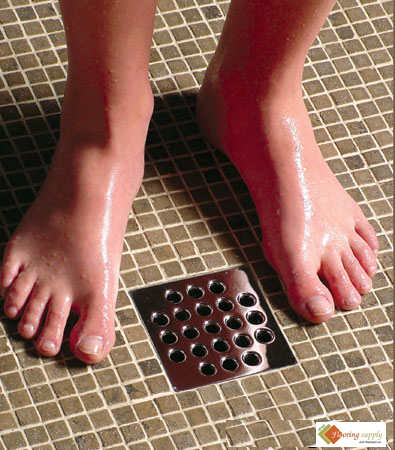 Which is the best place to go in the world when you want to spend some quality time with yourself?  Well, surely your bathroom!  It is your own personal space where you can make some fantastic plans without any disturbance. Whether you are listening to soothing music or basking in the effect of aromatic oils, your bathroom allows you to be the master of your space.  A neat and dry bathroom has a calming effect on your senses and helps you unwind. A square shower drain will keep your bathroom dry and ensure that water is drained out in a proper manner.
The Square shower drains are perfectly designed to fit the contours of your bathroom.  Made from 100% PVD (Physical vapor deposition) these drains have the most durable finishes available in the market.  PVD bonds to the stainless steel base metal with a molecular level bond.  This protects the PVD surface from peeling off unlike chrome or other electroplated finishes.  The PVD designs are available in various metallic colors which are developed by employing the use of a variety of inert gasses and exotic metals. The PVD coating process is green and environmentally friendly. There are no issues with toxic chemicals or water contamination.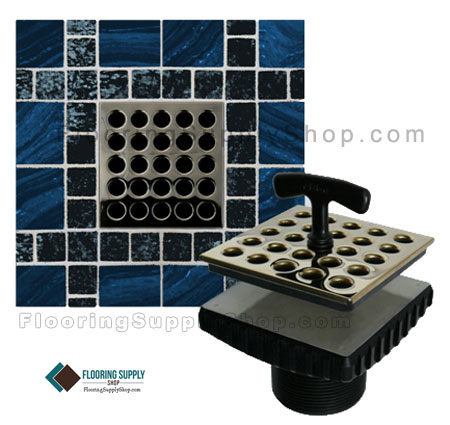 Made of a stainless steel clad glass or polymer composite frame these drains are designed to meet the requirements of your shower.  The various designer finishes help the square drains to blend perfectly with your shower pan and creates a truly marvelous effect.
As the shower drains spend most of their time in direct contact with water, it is advisable that they should be manufactured from a non corrosive material. These drain grates are made from heavy die cast zinc which makes them corrosion resistant. This ensures a longer life for the drains and will save you the hassle of changing them from time to time.  A functional shower drain will maintain a hygienic bathroom and keep your bathroom free from odor.
Another feature which makes our shower drains perfect for your bathroom is the minimal grout rim.  This provides a rigid frame to grout to and also a perfect flush finish to the grate without being noticed. It lends the square drain a clean look and allows the grate to set flush into the tile without the appearance of a frame.  The grout locking perimeter edge is a design which ensures that the square shower drain is thoroughly attached to the surrounding structure and mortar.
It's time to go back to school now. Remember how squares were always so much easier to understand than those confusing circles?  The same applies to the shower drain.  A square drain allows simple cuts as compared to a round one and saves precious time.  These drains do not require any grinding to match the radius and are hence easy to install.  Another value added feature is the use of heavy drain gates which are made from die cast zinc and offer years of service without rusting.
You can help ensure the longevity of your square shower drain by keeping a few points in mind.  Ensure that the cleaners you use for your bathroom are free from ammonia, bleach or acids.  Abrasive cleaners can damage the beauty of the tiles and so it is better to use a mild cleaner.  Rinse the area thoroughly and be sure to wipe the entire surface dry.  Keeping these few points in mind will help you to prolong the life of your floors.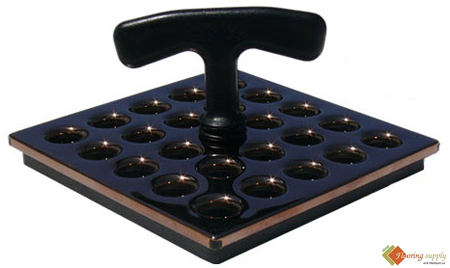 Our modern day ready to tile shower pans come installed with a square shower drain which eliminates the need for installing the square shower drain separately.  These pans offer a lot of flexibility to the contractors to try new ideas in the bathroom space. The shower pans have emerged as a solution for handling the growing challenges posed by the ever expanding array of shower products like body sprays, multiple shower heads, etc.  These drains perfectly complement the modern bathroom both aesthetically and functionally.  An experienced installer will ensure that the fixtures are installed as per proper guidelines.
Copyright © 2010 FlooringSupplyShop.com
The post The Square Shower Drain is Your Bathroom's Best Friend! first appeared on Flooring Supply Shop Blog.
deco shower drain
Ebbe square shower drain
Square shower drain