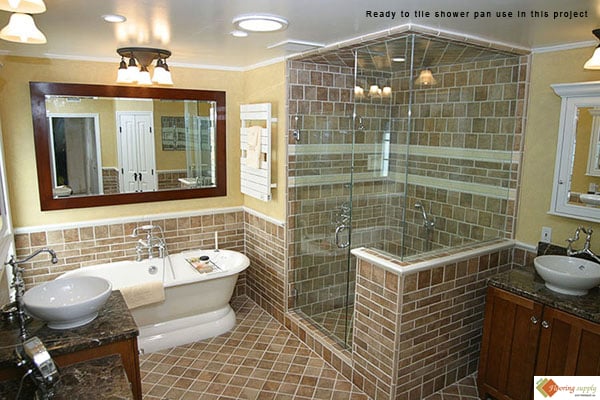 Isn't it a great experience to spend some quiet moments all by yourself in your bathroom?  Well, a neat and dry bathroom can prove to be your very own personal space and help you rejuvenate after a hard day at work.  A proper drainage system ensures that your bathroom is dry and hygienic.  Ready to tile shower pans ensure that the waste water is effectively drained out from your shower and your bathroom is left with a scintillating appearance.
Ready to tile shower pans are one piece shower pans that come with fully integrated drains, splash walls, integrated curbs or barrier free entrances, and an integrated pitch.  These shower pans offer many advantages.  They are easy to install, are leak proof and mold resistant, and are also ready to tile. This means you can set tiles of your choice directly on to the surface of the pan.  By installing these shower pans, your shower base is therefore ready to complement the decor of your bathroom.
Shower pans are made from high-density polystyrene insulation and offer fiberglass mesh reinforcement.  The polymer cement coating on them offers 100% waterproof protection and added strength.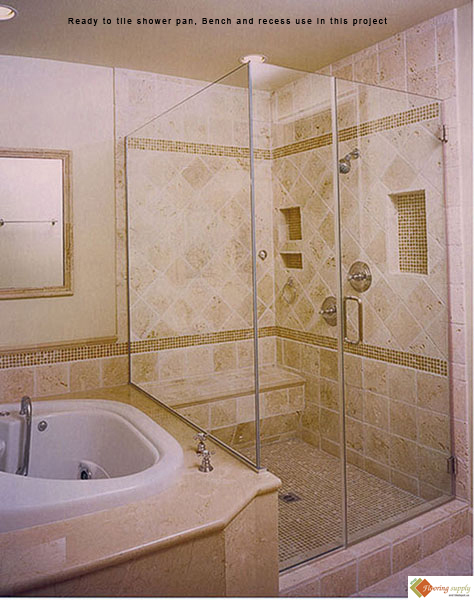 In single curb shower pans, you have the choice to go for center drain, left drain or right drain according to your requirement.
Bathroom accessories like shower pans are becoming an integral component of all modern day bathrooms.   Present day shower systems are a blend of technology and creativity and are imagined by top designers from across the world.  Bathroom accessories occupy a pivotal point in such designs as they have a tremendous aesthetic appeal and also offer various capabilities.  A shower pan is also a unique water intrusion solution which will ensure that your bathroom is always dry.
A bathroom pan includes the square shower drain which is gaining in popularity owing to its unique design.  A square drain is easier to cut and tile than a round one and so it is easy to handle.  The universal center ring ensures that water is drained out effectively.  Made from stainless clad glass, the shower pan offers superior strength and durability.  The pan comes with a grade puller which makes it easier to handle.
The unique proposition of a square shower drain is that it is completely free from screws.  The screws can become a barrier when you have to open or close the pan every time.  Opening the screws also damages the finish of the pan and can lead to scratches.  The square shower pans instead employ a grade puller which can be used every time you want to open the drain. The screwless model will make it simpler for you to retrieve your precious belongings from the drain.  Following the proper installation procedure will ensure that the shower pans operate smoothly.
Shower pans also have an environmental aspect to them.  Grey water harvesting is a concept similar to rain water harvesting and involves utilizing the water which runs down from the drains of your bathrooms.  Channeling this water in a proper manner and treating it can provide an acceptable solution for watering gardens and for irrigation purposes.  A shower pan ensures that used water from your shower is drained out properly and can be utilized constructively.  It will not only keep your bathroom dry but also ensure that every drop of water counts.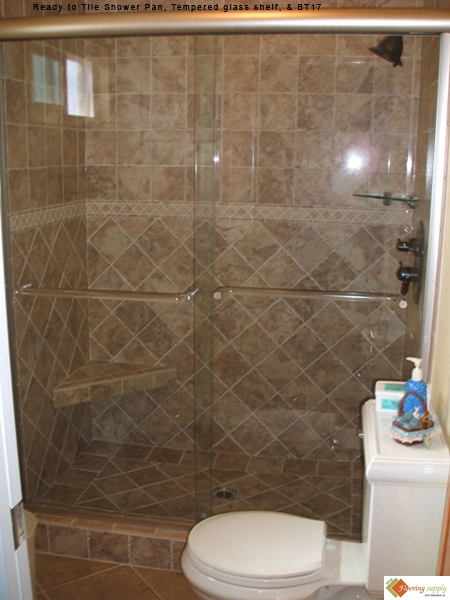 Modern shower pans are very easy to install and hardly require any time. The entire installation will take less than an hour.  A shower pan is a very important investment in your bathroom especially when you have conceptualized it and worked out each and every detail.  An effective shower pan keeps your bathroom dry and protects the flooring and other equipment from rusting.  A dry bathroom is also very pleasing to the eyes and reduces the probability of slip or fall.   A shower drain occupies a very important place in the entire concept of a functional bathroom and will surely prove to be a great investment.
Bathroom accessories can completely change the appearance of your shower and lend it a magnificent appearance. With the help of an experienced installer you can ensure that you have the appropriate accessories in your bathroom. A competent installer will also ensure that all the fittings are as per the prescribed guidelines to ensure complete safety.  These accessories will lend a personal touch to your showers and help you completely recharge yourself.  The bathroom accessories will add a concept to your bathroom and do the same thing as A Gucci dress does to you!
Copyright © 2010 FlooringSupplyShop.com
The post Ready to Tile Shower Pans Offer The Best Water Intrusion Solution first appeared on Flooring Supply Shop Blog.
Bathroom Accessories
Ready to tile Shower Pan
Tile ready shower pan