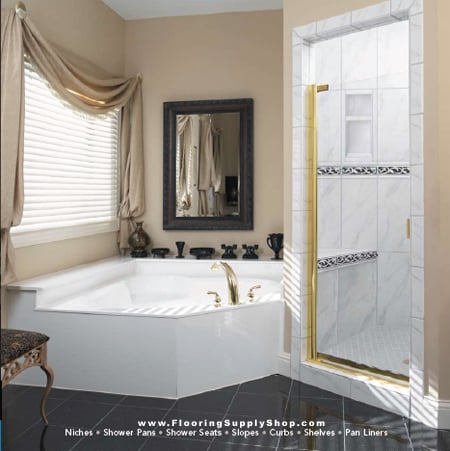 Do you feel stressed out after a long day at work? Well, the solution to your problem is right inside your shower! A refreshing shower can soothe your nerves and help you relax completely after a long tiring day.  A dry and clean floor is what makes for a rejuvenating shower.  The ready to tile shower pans will lend a neat look to your shower and make it safe for use. It is surely the best investment you can do in your bathroom!
Ready to tile shower pans are a complete revolution which have taken the plumbing industry by a storm! They offer various capabilities which can help you lend a customized appearance to your shower! Their flexible design empowers the plumbers to make the necessary modifications for them to fit your shower perfectly.  The shower pans adhere to the industrial standard with the exact specifications required for foot drain slope and integrated drain assembly in the base.
The ready to tile shower pans are lightweight, easy to install and completely waterproof which makes them perfectly suitable for a wide variety of purposes!  The unique selling proposition of the product is the flexibility it offers!  The shower pans give the contractors a flexibility to cut it using circular saws!  The contractors can thus modify the shower pans as per the requirements of your shower!
The ready to tile shower pans  are made from completely environmentally friendly products and so can help you make a positive contribution tothe environment!  These products will lend a Mediterranean charm to your shower and provide a soothing experience right inside your bathroom!  So leave all those worries behind and submerge yourself into a relaxing shower!
Flooring Supply Shop offers ready to tile shower pans and other bathroom accessories. The website www.flooringsupplyshop.com provides complete information about the company.
Copyright © 2010 FlooringSupplyShop.com
The post Ready to tile shower pan: Enjoy a refreshing experience! first appeared on Flooring Supply Shop Blog.
DIY
Do It Yourself
Ready to tile Shower Pan
Shower Pan
shower recessed shelves