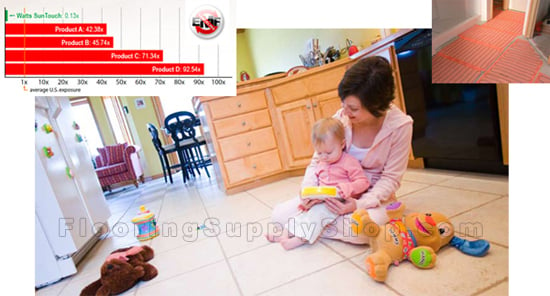 Is the approaching winter sending a chill down your spine?  Well, it's time to bid adieu to those icy cold floors and herald a new era of radiant floor heating in your home!  Our floor heating solutions provide a very safe and reliable option of enjoying the warmth of the sun right inside your home! These electric floor heating solutions will have a very soothing effect on your mind and keep your family warm and comfortable all through the winter.
Sun Touch Radiant floor heating employs the use of electrical devices to keep your premises warm.  The radiant floor heating kit consists of a radiant mat and various other products which adhere to stringent electrical standards and are therefore completely safe for your family!  The radiant mats have an 'S' pattern wire construction and produce 12 watts/ square foot of heat thereby ensuring complete comfort!
The unique selling proposition of our radiant floor heating products is the patented technology which allows it to register almost zero electro-magnetic forces (EMF)!  EMF can be a big issue of concern while selecting a floor heating product and can render most of the products hazardous.  The unique twin wire construction of the Sun Touch radiant floor heating system ensures that it is in a class of its own and completely safe for your family!
The Sun Touch radiant floor heating also offers the industry's first open weave construction thus allowing for easy installation.  The single power lead also makes it easier to connect the mat to the control.  The product offers different levels of heating and is hence suitable for both industrial and residential purposes!  With a slew of certifications from the most trusted agencies in the world you surely have a winner in your hand!
Sun Touch radiant heat flooring will illuminate your life with the warmth of a sun-kissed Caribbean beach!  It is completely safe and capable of maintaining an optimum temperature.  The product also comes with a loud mouth monitor which ensures that the floor warming system is installed correctly. So, get ready to bask in this endless warmth!
Flooring Supply Shop offers radiant floor heating and other home and bathroom accessories. The company is a one stop shop for all your plumbing requirements! The website www.flooringsupplyshop.com provides complete information about the company and its products.
Copyright © 2010 FlooringSupplyShop.com
The post Radiant floor heating: Enjoy an extended summer! first appeared on Flooring Supply Shop Blog.
electric floor heating
Radiant Floor heating
radiant heat flooring