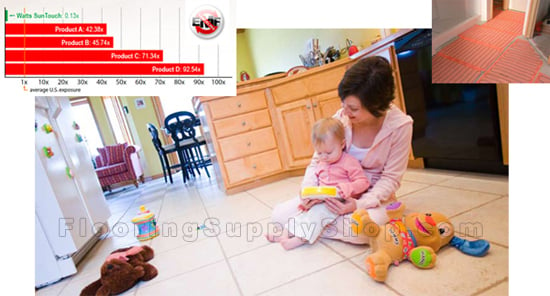 You may have installed a state of the art, 'thermostat controlled heating system' in your house, but you may not be aware that there still would be a significant temperature difference between the air temperature and the floor temperature.  It is this temperature difference that results in a lot of discomfort and forces people to look out for a floor heating solution.
Radiant floor heating systems offer luxurious yet affordable solutions to the problem of cold floors.  Contrary to common belief, installing and using radiant floor heating systems is quite easy and uncomplicated.  Basically there are two main types of floor heating systems; 'Hydronic' and 'Electric'. A Hydronic floor heating system uses a network of pipes to carry hot water below the floor, thereby heating it. However, due to the complex nature of this system, electric floor heating systems have become more popular.
People who are concerned about the visual impact of these radiant floor heating systems need not worry since these systems can be installed beneath any type of flooring. Be it tiles, hardwood, laminates or carpets; the compact dimensions of a radiant floor heating system ensure that there are no visible effects on the aesthetics of your room.
A few reputed radiant floor heating systems, such as SunTouch, can be customized according to your specific requirements, thereby enabling you to install these systems in rooms of any size and dimensions. In case you feel that your kitchen and bathroom are the two areas that require floor heating, you can get custom designed floor heating solutions from reputed companies such as SunTouch.

One of the major issues that make people skeptical about indulging in this luxury is that of Electro Magnetic Fields (EMF). It is generally feared that a radiant electric floor heating system would significantly raise the EMF levels, which would have a negative effect on people. Although this concern is genuine for electric floor heating systems having a single wire; products such as SunTouch radiant floor heating systems have a unique twisted dual wire technology. This unique structure works effectively in reducing the EMF thereby eliminating the ill effects associated with it.
Since these radiant floor heating systems work on electricity it is natural for people to worry about the operating costs associated with them.  However, a number of radiant floor systems have an inbuilt thermostat that you can use to control the usage as per your requirements. This ensures that there is no wastage of energy, thereby lowering your power consumption. Further, by using these floor-heating systems you would be able to turn down your main thermostat by a few degrees and still maintain a comfortable environment and adding on to your savings at the same time.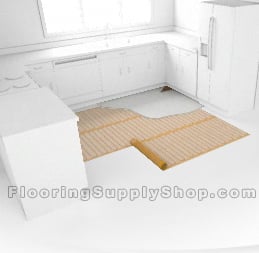 Therefore it becomes evident that although a radiant floor heating system is nothing less than a luxury, it is still quite efficient and affordable. So you can go in for a radiant floor heating system and enjoy its warmth without worrying about the costs or maintenance associated with it.
Copyright © 2010 FlooringSupplyShop.com
The post Radiant floor heating systems: An affordable luxury first appeared on Flooring Supply Shop Blog.
electric floor heating
Radiant Floor heating
radiant heat
radiant heat flooring
SunTouch electric floor heating
SunTouch radiant heat flooring