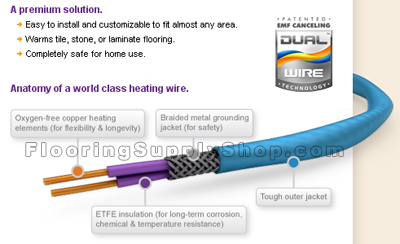 Do you want to enjoy the radiance of a sun kissed beach right inside your home? Well, now you can create a perfect environment of warmth and radiance inside your home with the help of radiant floor heating! It is the safest and a really cost effective method of bringing the warmth of the Sun kissed beach right inside your living room!
Radiant heat flooring is a holistic process which involves the use of electricity to warm the floors of your interiors! The entire process employs the use of electricity and hence needs to be carried out with a lot of precision! Radiant heat flooring creates a very comfortable ambiance in your interiors and is very soothing for your senses!
One of the most important factors which you should take into consideration while choosing radiant heat flooring system is its EMF impact. Electro Magnetic Forces (EMF) are radiated from almost all types of electrical gadgets and it is important to control their exposure as it can have a serious impact on your health. The Sun Touch radiant floor heating solutions have a very low EMF and so is simply perfect for your interiors!
The twisted dual wire shielding technology plays an important role in reducing the effects of electromagnetic forces coming from your radiant floor heating! Even stringent testing procedures like REET or Radiant Electric Emission Test have found Sun Touch EMF cancellations capabilities credible! A low EMF makes the radiant floor heating very safe and perfectly suitable for various uses in your home!
You can not only create a warm and comfortable atmosphere inside your home but also have a stupendous shower experience with shower recesses and bathroom accessories stone! These products will add a lot of glaze to your shower and offer you a truly rejuvenating experience! Modern day floors are also very safe and anti slip to prevent mishaps. So just enjoy a cool and refreshing shower!
Flooring Supply Shop offers radiant floor heating and various other products for your floors and showers. The company's website is also very secure and ensures that all your important financial details are kept completely secure.
The website www.flooringsupplyshop.com provides complete information about the company and the products!
The post Radiant heat flooring As warm as it gets first appeared on Flooring Supply Shop Blog.
Do It Yourself
electric floor heating
Radiant Floor heating
radiant heat
Radiant Heating
SunTouch radiant heat flooring