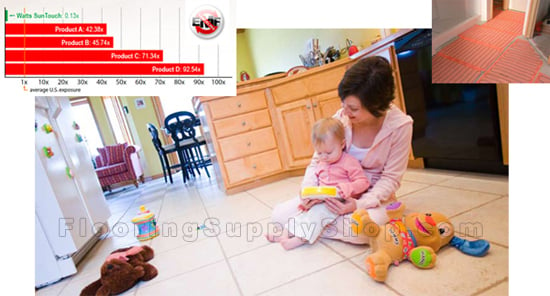 doesn't your kid love to play around on the floors of your home? Well, now you can ensure the highest degree of comfort and safety for him with the help of radiant floor heating! It is a unique and innovative process which brings a lot of warmth to your interiors and helps you ensure a comfortable time for your kids! The radiant floors will also enhance the aesthetics of your interiors!
Radiant floor heating is an involved process which involves the use of electricity to keep your interiors warm. The entire process involves the careful use of electrical equipment to achieve the desired temperature. Radiant floor heating proves to be a very cost effective method for heating the interiors and creating a warm and comfortable interior!
One of the most important factors which should be kept in mind while selecting a radiant floor heating system is its ability to counter EMF (Electromagnetic Forces). A low EMF is important to ensure healthy surroundings for your kids as continuous exposure to electromagnetic forces can have a telling effect on the health of your loved ones! A Sun Touch radiant heat flooring system has a very low EMF and ensures maximum protection for your home.
A Sun Touch floor heating system clearly stands out from its competitors owing to its unique feature of reducing the Electromagnetic Fields (EMF)! EMF is radiated from all electrical gadgets and an over exposure can have an adverse effect on your health. However Sun Touch heat flooring systems are equipped with a dual wire shield which keeps EMF at bay and allows you to have a healthy and warm experience!
The effectiveness of a Sun Touch radiant heat flooring system to counter the harmful electromagnetic forces has been acknowledged by REET (Radiant Electric Emission Test) which adopts stringent measures to establish the effectiveness of a radiant floor heating system! Its patented dual wire shield technology is what gives Sun Touch systems this unique ability!
Flooring Supply Shop offers electric floor heating and various other plumbing products to offer you a comfortable and warm indoor experience. The company offers an exciting range of products like travertine soap case and porcelain benches to ensure that you have a fabulous experience.
For more information visit our web site www.flooringsupplyshop.com
The post Radiant floor heating: As safe as the Sun! first appeared on Flooring Supply Shop Blog.
Do It Yourself
Radiant Floor heating
radiant heat
radiant heat flooring
SunTouch electric floor heating