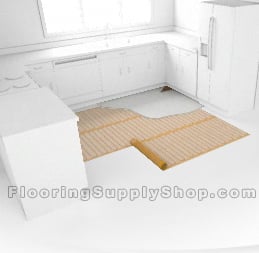 The elements of nature can bring a perfect sense of harmony to your lives! Now you can enjoy the warmth of the Sun in your interiors with electric floor heating! Electric floor heating products employ the use of safe processes to lend warmth to your home! Electric floor heating can help you enjoy a nice and warm shower or have a great time in the kitchen!
Electric floor heating employs the use of electricity to warm your floors. A good electrical floor heating system replicates the effects created by the Sun in your interiors! Floor heating ensures a warm and comfortable environment in your house besides providing safety to your family. It also brings the warmth of the Sun in your home!
A Sun Touch floor heating system clearly stands out from its competitors owing to its unique feature of reducing the Electro Magnetic Fields (EMF)! EMF is radiated from all the electrical gadgets and an over exposure to the same can have an adverse effect on your health. However Sun Touch heat flooring systems are equipped with a dual wire shield which keeps EMF at bay and allows you to have a healthy and warm experience!
The credibility of the Sun Touch Electric floor heating systems has been established by germane certifications like REET (Radiant Electric Emission Test). However little care is also necessary to ensure the effectiveness and safety of the floors. For instance, latex modified mortars can prove to be the perfect bonding coat for your floors!
Along with flooring materials, the entire portfolio of flooring products includes an exciting range of stone materials to lend a rustic charm to your shower! The glazed stones and porcelain benches bring back the Mediterranean charm to your bathroom and will make you feel like a prince! The shower recessed shelves also lend a very clean appearance to your shower! They offer a lot of space to store your shower accessories and lend your bathroom a spa like appearance to rejuvenate your senses!
Flooring Supply Shop offers electric floor heating and fiber glass shower pans. The company also provides various products like shower pans and radiant floor heating solutions which are important for the purpose of flooring.
For complete information visit our web site www.flooringsupplyshop.com about the company.
The post Electric floor heating: A new Sunrise! first appeared on Flooring Supply Shop Blog.
electric floor heating
Radiant Floor heating
shower recessed shelves