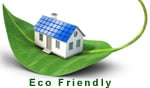 Here at the Flooring Supply Shop, we care a great deal about the environment. We know the value of sustaining our natural resources, reducing the amount of waste, and recycling old things to make them new again. Our natural stone products are one great way that we are protecting the earth while adding style and value to your home. Natural stone is environmentally sound and will last a lifetime. The problem is that for a long time the products you used to maintain and beautify your stone and tile were not. That has all changed.
Flooring Supply Shop is offering a full line of Eco-friendly products for the care and upkeep of your stone and tile floors, pathways, patios, etc. Take a look at some of the exciting new products we have to offer:
Powerful stone and tile cleaner: It's good for the environment and great for your stone and tile.Our cleaner is a heavy-duty alkaline that will quickly remove floor finish, wax, and water-based acrylic sealers.It will also get rid of those unsightly stains caused by soap scum, algae, mildew, dirt, grease and other deposits.We offer it in a quart, gallon, or five gallon size for those big jobs.Use it to thoroughly clean and degrease your neglected stone, masonry, ceramic and porcelain tile, and even your grout.Tackle your tough job and save the planet with this top-notch cleaner.
Kleen-stone: Do you need an eco-friendly daily cleanser that will work great on your floors and tile surfaces?You should check out Kleen-stone.It has a neutral ph, and does not need to be rinsed away.It is the best product for use on black granite.It will serve you well as it quickly gets your floors and other tile surfaces clean.It is also available in a quart, gallon, or five-gallon variety depending on the frequency and scope of your cleaning needs.
Rock Star: Is your natural stone ready for the main stage?If not, just spray it down with Rock Star and it will be!This fast-drying, non-abrasive polish will bring out the natural beauty of all your stone surfaces.It leaves them shining like the sun, and offers a protective coating from the dust, dirt, and spills that are sure to come.Let our Rock Star get you ready for the next show.
Big Time: If your grout has seen it's better days, give it a hit of Big Time and watch it reclaim the beauty of its youth.This heavy-duty acidic restoration cleaner will wipe out your grout haze, rust, scale, and efflorescence stains and make your grout look brand new again.You can pick it up in quart, gallon, and five gallon sizes.So do your floor a favor and take your grout to the Big Time.
Enhance and Protect: If you have dull, worn-out, or weathered stone there is no need to worry.Our eco-friendly Enhance and Protect will seep into the pores of your stone and darken and restore its appearance while simultaneously protecting it from stains.It leaves behind almost no residue, and you can pick it up in quart, gallon, or five gallon varieties.So if your stone has been wrecked, bring it back with Enhance and Protect!
Impregnators: If you are looking for a little stain protection for your natural stone and tile surfaces, our impregnators will get the job done.All are available in quart, gallon, and five gallon sizes.All offer premium protection against stains and can double as a grout sealer.They come in our basic variety as well as special products for calcium carbonate surfaces, and granite.Whatever the stone, we have the right impregnator for it.
As you can see, we offer a bevy of products that will protect, restore, enhance, and clean your tile and stone surfaces both indoors and outdoors.But this is only the beginning.Stay tuned as we continue to seek out and find more products for your home that will help both you and the planet we live on.After all, saving the Earth is everyone's responsibility
The post The Flooring Supply Shop is Saving the Planet!!! first appeared on Flooring Supply Shop Blog.
cleaning products
Eco-friendly
impregnator
marble
stone
tile
tile cleaner