Installing Hardwood Floors over Radiant Heated Sub Floors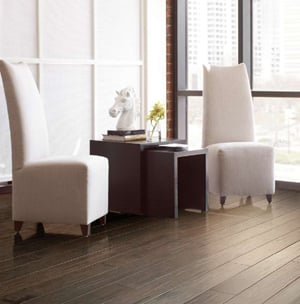 Installing Hardwood Floors over Radiant Heated Sub Floors
• Oak, Ash, Hickory, and Walnut species Engineered Hardwood products, > ½" thickness normally are approved for installation over radiant heated subfloors using either Adhered or Floating installation methods if applicable for the product.
• Nail or Staple Down installation methods are not recommended for Radiant Heated Sub Floors.
•  Engineered product constructions thinner than ½" will require review by the Hardwood manufacture before installation; along with a location registration and an acknowledgment letter, verifying that the project is approved and warranted.
• Radiant Heating Systems used must be designed and controlled specifically for Hardwood flooring by the system manufacturer, and include an Outside Temperature Probe, and Surface Temperature Controls.
• The end consumer should be aware that minor gaping between wood planks during the heating season is a normal occurrence with hardwood flooring installed over radiant heated subfloors.
• Proper humidity controls within the home or business will help to minimize the natural wood reaction to seasonally changing climate conditions.
• Indoor climate should be maintained between 60-80° F and a relative humidity range of 35%-65%.
Adhere to the following guidelines for a successful installation :
• Newly installed water type radiant heated flooring systems should be in operational mode with the temperature set between 64° -72°F, for a minimum of 4 weeks to insure that all sub floor moisture has properly dried.
• Older water type radiant floor heat systems should be fully pressure tested, properly maintained, and set to a minimum of 64°F, for at least 4 days before flooring delivery; acclimation, or installation processes may begin.
• All radiant heating systems must be set to room temp. (A minimum of 64°F), for at least 4 days before flooring delivery; acclimation, or installation processes may begin.
• Always check wood sub floors to insure that the moisture content is less than 14% using an accurate wood moisture meter.
• Concrete sub floors must register "dry", using a reliable concrete moisture meter.
• The pH level of concrete sub floors should register between 6 and 9, on a fourteen point pH scale.
• Sub floors must fully comply with these "dry" requirements before proceeding with the delivery, acclimation, or installation of the wood flooring at the job site.
• Regulate the job site to insure that the relative humidity is between 35% and 65%, and that temperature is between 60° and 80° F, throughout the flooring delivery, acclimation, installation and any required curing processes.
• Deliver and acclimate the engineered hardwood flooring, for at least 48 hours before installation begins.
• Install the hardwood flooring according to the instructions that pertain to the product.
• After completing the installation, do not change the radiant heat setting for 48 hrs.
• Throughout the life of the installation, 3 to 5 degree daily increments must be used when adjusting system temperature for either upward or lower adjustments; so that the hardwood flooring can adjust to the temperature changes in a gradual manner.
• Never raise the flooring surface temperature setting above 85 degrees Fahrenheit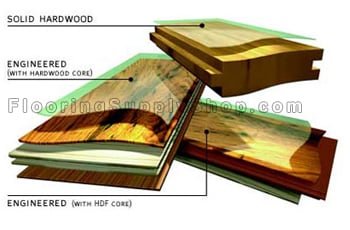 The post Installing Hardwood Floors over Radiant Heated Sub Floors first appeared on Flooring Supply Shop Blog.
DIY
Do It Yourself
Eco-friendly
electric floor heating
Environmentally friendly flooring
go green
Hardwood
hardwood flooring
installation
Laminate