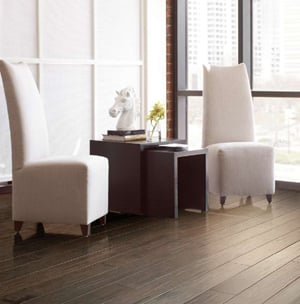 It is the dilemma that has taken place in millions of homes across America and the globe: "I want a beautiful look for my home, but I also don't have tons of money to spend." There was a time when you couldn't have your cake and eat it too. The emergence of laminate flooring for homes over the last twenty years has made that elegant look affordable. But what is the difference between laminate and hardwood flooring? Is one really better than the other? Let's take a deeper look and see what we can find.
Hardwood flooring is, as the name implies, made of solid wood throughout. Flooring aficionados and decorators have always dinged hardwood for its susceptibility to moisture and it's price. The flooring industry has an answer for this: Engineered hardwood flooring. Engineered hardwood flooring has a hardwood veneer surface constructed of cross-laminated layers of wood. By contrast, laminated flooring is a "picture" of wood that is attached to a fiberboard composite. This lies beneath a clear finish of melamine. This makes it much less expensive while giving it a similar look to hardwood. Before making your choice, there are four questions you should ask yourself.
What happens to it when it gets wet?
Traditional hardwood floors are very sensitive to changes in humidity and moisture. If you have pets that are not house-trained, you would do well to stay away from the hardwoods. I wouldn't recommend them for kitchens, bathrooms, or anything below grade either. If you have a kitchen or bathroom that you just have to have hardwoods in, go with the engineered hardwood. It requires a moisture barrier to be laid down first, which eliminates this problem. Many, but not all, laminate floors are water resistant. This provides even more protection for your floor.
Winner: Laminates!
How easy is it to install?
Laminate floors are a project that most any do-it-yourselfer can handle on their own. They are installed as a floating floor, and many varieties simply click together and lock in place. Engineered hardwoods are not as easy to install, but can still be done by someone with a degree of skill. Professionals in most cases should install hardwoods. That being said, I know people who have installed hardwoods themselves and their floors look great. I guess it just depends on your confidence in that area.
Winner: Laminates!
How long will they last?
Both hardwoods and laminates are fairly long lasting. Hardwoods do tend to scratch and dent much easier than laminates. That means the claws of your dog or house cat, ferret, tiger, or any other pet will cause damage to your new floor. Laminates however are susceptible to chipping. Hardwoods can fade if placed in areas of direct sunlight. Laminates do not fade and are stain resistant. Hardwoods can be refinished to look like new again. Significant damage to laminates may require the entire floor to be replaced. Also, laminates are usually given about a 20-year life span. Because of the ability to refinish your hardwood floors, they can last you a lifetime.
Winner: Hardwoods!
How great will they look in my home?
Let me tell you this. I have had both, I have seen both, and I have installed both. I can tell you unequivocally that hardwoods look better. Maybe this is because laminate flooring is just a picture of wood. Maybe it is the fact that hardwoods allow for a variety of wood grain patterns while laminates repeat their pattern every five boards. Maybe it is the authentic "old- timey": look. Whatever it is I would wager that if you surveyed ten people, nine of them would say that hardwoods look better. Winner: Hardwoods! And the champion is…neither. It is kind of a draw. Laminates are cheaper, slightly more durable and offer a similar look to hardwoods. However, hardwoods last much longer, increase the value of your home more, and look better than laminates. You should probably consider your budget, and what your long-term flooring needs are and make your choice. You really can't go wrong either way.
Copyright © 2010 FlooringSupplyShop.com
The post Laminate vs. Hardwood: Take it to the Floor first appeared on Flooring Supply Shop Blog.
comparison
DIY
Flooring
Hardwood
installation
Laminate
longevity