SunTouch Electrical Floor Heating: Kiss the warmth of Sun
Do you want to feel the warmth of those beautiful sun kissed Mediterranean beaches right inside your home? Well, now you can make your floors really warm with the help of SunTouch electrical floor heating. It is an innovative process which provides a beautiful appearance to your floors as well as keeps them warm.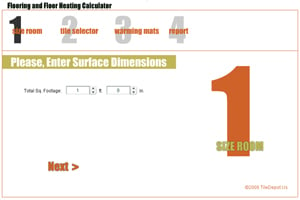 Flooring has always been associated with providing a protective layer to the floors of the home and lend them a neat and clean appearance. However, in the present day the scope of flooring has been broadened to provide extra features. The SunTouch Electrical floor heating fit perfectly into this new role.
The SunTouch electrical floor heating products are breakthrough in the field of radiant heat flooring. Some of the key features of the products are listed below:
– It has a thin weave construction which allows for better leveling
– Industry's first single power lead construction
– Uses oxygen free copper alloys for better insulation and rust prevention
– Available in 120 &240 Volts for different applications.
The above features make SunTouch electrical floor heating mats perfect for keeping your floor warms. Thus now you can bid farewell to those Siberian floors with their ice like touch! Your floors will be now your personal beach with a lot of warmth and radiance.
The SunTouch electrical floor heating is simply perfect for your entire house. The flooring proves perfect for providing warm and radiant floors for your kitchens and toilets. The electric floor heating is also very safe to use and blends perfectly with the interiors creating a complete look.
To ensure that the SunTouch electrical floor heating has been correctly installed one can employ the services of a device known as LoudMouth Monitor. This device ensures that the heating system has been installed correctly and has the ability to monitor three mats simultaneously. Thus, now you need not fear about loose wires!
Flooring is a holistic process which covers every aspect of your home. It includes the showers and the drains as well as the faucets and kitchen sinks. The aim of the flooring process is to provide an end to end solution for a complete home.
Flooring Supply Shop offers SunTouch electrical floor heating device. The company provides a holistic solution for flooring the entire home. The website www.flooringsupplyshop.com provides complete information about the company.
Copyright © 2010 FlooringSupplyShop.com
The post SunTouch Electrical Floor Heating: Kiss the warmth of Sun first appeared on Flooring Supply Shop Blog.
electric floor heating
radiant heat
SunTouch radiant heat flooring