Flooring Supply Shop News
THURSDAY 11 SEPTEMBER, 2008 |
---
FlooringSupplyShop.com Offers SunTouch® Radiant Floor Heating Sy
by Administrator | post a comment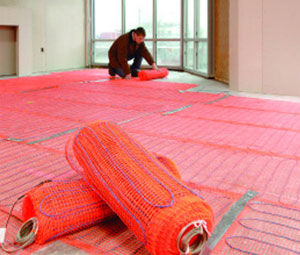 SunTouch Systems
SunTouch®, a division of Watts Water Technologies, Inc., provides three types of electric radiant floor heating systems. The subfloor mats, UnderFloor® mats and WarmWire® are solutions readily applied under a variety of flooring materials. These systems turn ceramic tile, laminate, stone or hardwood flooring in kitchens, bathrooms, commercial or institutional entries into safe, electrically heated flooring.
SunTouch® can be purchased in any size and can fit any budget. They also offer the benefits of mats which are made of a blend of quality materials for longevity. SunTouch® products are cheap to operate and are the only EMF canceling electric floor warming product manufactured in America. They are also safely grounded and hold a patented system for the easiest radiant heating system to install. There is no need to replace or refinish existing flooring. Mat or WarmWire® kits can be integrated into the existing construction. Home renovation of this type offers the advantages of comfort and value with little effort and cost which is the reason SunTouch® systems are used by professionals and non-professional installers alike. It is for these reasons and more that flooringsupplyshop.com selects SunTouch® to provide their valued customers.
For more information on SunTouch® systems, please visit www.suntouch.com.
Further Inquiries
For those requiring technical details, installation assistance or general inquiries, flooringsupplyshop.com provides their acclaimed customer service to assist with the selection and installation of SunTouch® kit solutions. flooringsupplyshop.com is pleased to offer free consultations to assist customers with the selection and estimation of required materials. flooringsupplyshop.com holds one of the largest inventories of tile supplies and provides same day shipping for online orders. Customer satisfaction is a priority which is why flooringsupplyshop.com offers a money back guarantee on all SunTouch® systems.
If you'd like more information about products, or to schedule an interview with Motti Vaknin, President of the International Flooring Center, please visit us at our store International FlooringCenter: 5047 W Jefferson Blvd, Los Angeles, CA, 90016, call the office at 877-880-8453 or e-mail flooringsupplyshop.com directly at contact@flooringsupplyshop.com.
---
---
---
---
---
News for Saturday 02 August, 2008
---
View all news for Saturday 02 August, 2008 on one page
---
---
---
Recent News
---
---
---